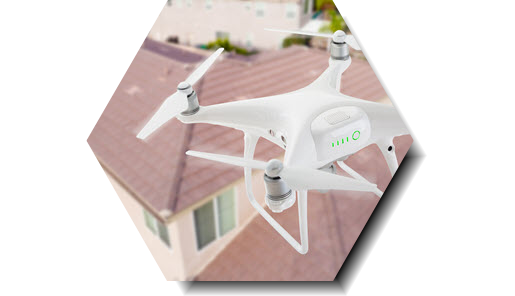 Serving Myrtle Beach | North Myrtle Beach | Conway | Surfside Beach | Murrells Inlet and nearby communities with dependable, accurate and honest home inspection services. Call 843-231-8532 to schedule your appointment or use our online form. License # 49139
Frequently Asked Questions About Home Inspections. Please contact Top To Bottom Home Inspection in Myrtle Beach if you need additional information or to schedule an appointment.
Top To Bottom Home Inspection in Myrtle Beach, SC wants all of its clients to make well-informed decisions when buying or selling property. Our goal is not to provide a "pass-fail" report, but to provide the information you need about the condition of that property.
Roof Inspections
The condition of the roof will determine if Top To Bottom Home Inspection "walks the roof" or uses a drone. In general, a roof inspection includes the roof covering materials, gutters, downspouts, vents, flashing, skylights, and chimney. We may also inspect the attic, if available, to check for roof leaks. 
Top To Bottom Home Inspection does not make any predictions about the life expectancy of the roof, nor do we warranty or certify the roof. Also, we don't remove any debris or inspect underground downspouts. If we do access the attic, we do not move insulation or walk in any areas that in our opinion, can cause damage.
Exterior Inspections
Top To Bottom Home Inspection exterior inspections include the exterior eaves, soffits and fascia, and a representative number of windows. All exterior doors, flash and trim, walkways and driveways are inspected. We also include stairs, steps, ramps  as well as porches, patios, decks, balconies and carports. We'll make note of any moisture that could cause drainage issues.
Top To Bottom Home Inspection is not required to operate screens, storm windows, shutter or awnings, although we may note any structural issues. We do not deal with underground utilities, wells or springs. Swimming pools and spas are also not a required part of our inspection.
Basement, Crawlspace, Foundation and Structure
Although basements are not common along the coastal Grand Strand area, we are asked to inspect crawlspaces, foundations and structure during home inspections. 
Top To Bottom Home Inspection can review the condition of wood in contact or near soil, look for active water penetration and any observed indications of foundation movement. 
We are not required to enter a crawlspace if it is not readily accessible, or may prevent a hazard to the inspector. We do operate sump pumps or comment on any engineering service, or report on the adequacy of any structural component. We also do not move any items stored or debris.
Heating
Top to Bottom Home Inspection checks on the heating system using normal controls. We'll look at the location of the heating system, the heating method and advise if any corrections are needed. We will report if the heating system did not operate or was deemed inaccessible. 
We are not required to inspect flues, chimneys, fire chambers, heat exchangers, combustion air system, air intakes, humidifiers, dehumidifiers, electronic air filters, geothermal or solar heating systems. We do not activate heating systems when circumstances may damage the equipment.
Cooling
Your cooling system is probably the work horse of your HVAC system here in coastal South Carolina. Top To Bottom Home Inspection will operate the cooling system using normal controls, report on the location of the cooling system and cooling method. We'll report if we see anything that neeeds correction or was deemed inaccessible.
We don't inpsect any portable window units, through-wall units or electronic air filters. We are also not required to inspect any system when circumstances may damage the equipment. Electrical current, coolant fluids gases or coolant leakage are also not required items in the inspection.
Plumbing
Plumbing is an important part of any habitable property. Top To Bottom Home Inspection's report will include information on:
The main water supply shut-off valve
The main fuel supply shut-off valve
The water heating equipment, including the energy source, venting connections, temperature/pressure-relief (tpr) valves, watts 210 valves, and seismic bracing
The interior water supply, including all fixtures and faucets, by running the water
All toilets for proper operation by flushing
All sinks, tubs and showers for functional drainage
The drain, waste and vent system
Drainage sump pumps with accessible floats.
Plumbing fixtures
Water supply and drain lines
We are not required to:
Light or ignite pilot flames or measure the capacity, temperature, age, life expectancy or adequacy of the water heater.
Inspect the interior of flues or chimneys, combustion air systems, water softener or filtering systems, well pumps or tanks, safety or shut-off valves, floor drains, lawn sprinkler systems, or fire sprinkler systems.
Determine the exact flow rate, volume, pressure, temperature or adequacy of the water supply.Determine the water quality, potability or reliability of the water supply or source.
Open sealed plumbing access panels.
Inspect clothes washing machines or their connections.
Operate any valve.
Test shower pans, tub and shower surrounds or enclosures for leakage or for functional overflow protection.
Evaluate the compliance with conservation, energy or building standards, or the proper design or sizing of any water, waste or venting components, fixtures or piping.
Determine the effectiveness of anti-siphon, back-flow prevention or drain-stop devices.
Determine whether there are sufficient cleanouts for effective cleaning of drains.
Evaluate fuel storage tanks or supply systems.
Inspect wastewater treatment systems.
Inspect water treatment systems or water filters.
Inspect water storage tanks, pressure pumps, or bladder tanks.
Evaluate wait time to obtain hot water at fixtures, or perform testing of any kind to water heater elements.
Evaluate or determine the adequacy of combustion air.
Test, operate, open or close: safety controls, manual stop valves, temperature/pressure-relief valves, control valves, or check valves.
Examine ancillary or auxiliary systems or components, such as, but not limited to, those related to solar water heating and hot water circulation.
Determine the existence or condition of polybutylene, polyethylene, or similar plastic piping.
Inspect or test for gas or fuel leaks, or indications thereof.
Electrical
Top To Bottom Home Inspection electrical inspections point out areas of concern that a licensed electrician, if needed, should deal with. We inspect the service drop, the main service disconnect, panelboards, circuit breakers and fuses, service gronding and bonding, lighting fixtures, and receptacles. We also check for the presence of smoke and carbon monxide detectors. We test both smoke detectors and CO2 detectors to make sure they sound off.
We are not required to insert any probe or device into the main panel board, except those that we deem necessary for our findings.  We are also not required to inspect any emergency electrical supply systems or exterior lighting.
Doors, Windows & Interior
While conducting an interior inspection, Top To Bottom Home Inspection will look at a representative number of doors and windows by opening and closing them; floors, walls and ceilings; stairs, steps, landings, stairways and ramps; railings, guards and handrails. We will operate garage vehicle doors and the operation of garage vehicle door openers, using normal operating controls. Islands, countertops, sink tops or fixtures are also inspected.
We don't include paint, wallpaper, window treatments,  central vacuum systems or security systems.  Your inspector will not move furniture, stored items or coverings.